What makes us tick
We recognise that both globally and locally, change is afoot and that radical economic and social transformations are underway.
We believe that all organisations will one way or another, improve, transform and adapt to the economic and technological changes, as well as responding to our society and environmental needs over time.
We know that whilst many organisations are grasping the opportunities — it is still a challenge for most.
How we help
We help organisations improve how they do things, enable capability to ride the waves of disruption — and reduce their impact on people and planet.
To achieve these things, we integrate the three perspectives of Business Improvement, Technology Solutions and Sustainability into our approach.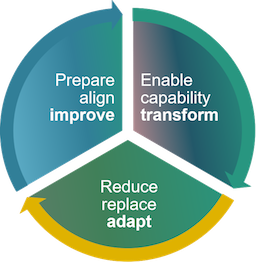 How we approach things
We enjoy analysis, problem-solving and general improvement progress. We work out what needs fixing, find and plan solutions and have broad experience in small and large mission-critical enterprise Transformation projects. We are business-minded but have technical understanding — and we exercise sustainable thinking.
We work diligently to undertake critical thinking, research and analysis — and to produce the knowledge, reviews, plans, solutions and outcomes you need.